When You Have the Place to Yourself
There couldn't be a more perfect morning than the one I woke to on a recent Wednesday in early September.   The temperature not quite sweatshirt-ready, it dawned crisp and cloudless at 6:30 am on Lake Sebago in Harriman.  "You'll have the whole place to yourself," the manager of Baker Camp had told me when I checked in the day before.  And it was true.
I'd been up for an hour taking pictures before I settled onto the porch, coffee from the JetBoil ready and some instant oatmeal in the pot.  A hummingbird, attracted to the Jetboil's red jacket, buzzed my porch.  Crickets sang sweetly all around me while crows argued in the pines.  The lake, so close and so blue below me, barely rippled, but threw shivering reflections on the eaves of my little porch.  Nothing else stirred.
I'd come here to write a little, to read, and to try to find the perfect nearby getaway in Harriman for someone who is not quite comfortable sleeping outside in the wilderness, unsheltered, alone.  At Baker Camp, a 1930s-era group camp on Sebago Lake in Harriman. I found just that.  This is not the Baker Camp of summer — a lively, crowded and, to some ears, noisy place that children and adults return to year after year.  This is the post-Labor Day experience, when the last campers of summer have left, and Baker becomes another place altogether.
Odds are good that you'll be the only one on the campground if you book a cabin mid-week.  If you're a writer, a reader, a couple who'd like to escape the city for a night, if you're having trouble pulling together an escape that stretches over a few days, if you just want to get away for some peace and quiet and the clear air of early autumn, this is your time.
Baker Camp occupies one of the prettiest stretches of Lake Sebago's curving shoreline.   At the end of the Brundige Hill thumb, which divides the lake into two arms, Baker Camp sits alone amid pines and cedars, enjoying views to all parts of the lake.  Across the lake and to the east is the Sebago Boat Launch; directly across the narrowest part of the lake is the Adirondack Camp, with the canoe camp to the south, on a little peninsula.  All quiet, fall advancing.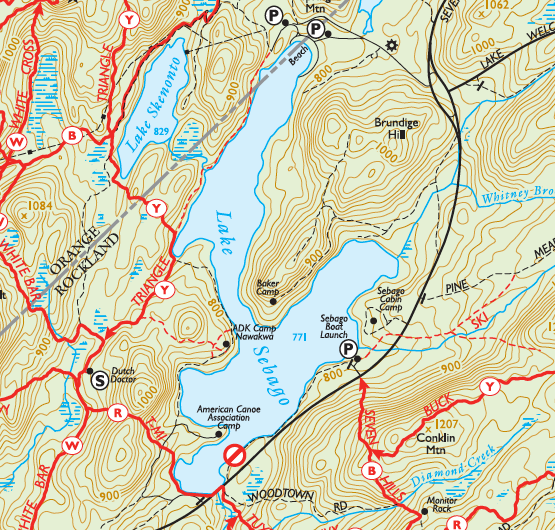 The Camp
The three-mile driveway, from Seven Lakes Drive to the camp, follows a snaking route once known in picturesque local usage as the "Mad Dog Road", all the way to the camp office.  In the setting sun, a small herd of young deer was feeding on platters of corn, scattered by the camp managers, when I arrived.  We sat there, watching, the manager telling me about the deer family, before I settled up (a sixty-dollar check took care of the rent) and got my instructions.
We talked about bears ("I'm not going to lie to you.  We had a bear here, two weeks ago.  He tipped over every garbage can."), the hummingbirds, and then the dangers of being a woman in the woods alone.  "I took some real chances, back then", she recalled.  I could tell she loved these woods, the lake that shone up from between the pine trees.
Harriman State Park was built, in large part, to connect children of urban poverty with nature, and the camps that sprung up along the shores of its many lakes offered a respite from city life.  But some, like private Baker Camp on Lake Sebago, were built for other purposes; Baker was the project of a mutual corporation of banks as a summer camp for their employees.
Now, you can rent a cabin for $60.00 (standard) from April to October.  But for me, the real value comes after Labor Day, when the camps can seem almost abandoned.  If you can steal away from work — say, leave a little early on a Tuesday afternoon, call in sick for Wednesday — you can experience a side of Harriman camping that few others know: waking up in an old cabin, alongside a pristine lake, with not another soul around you.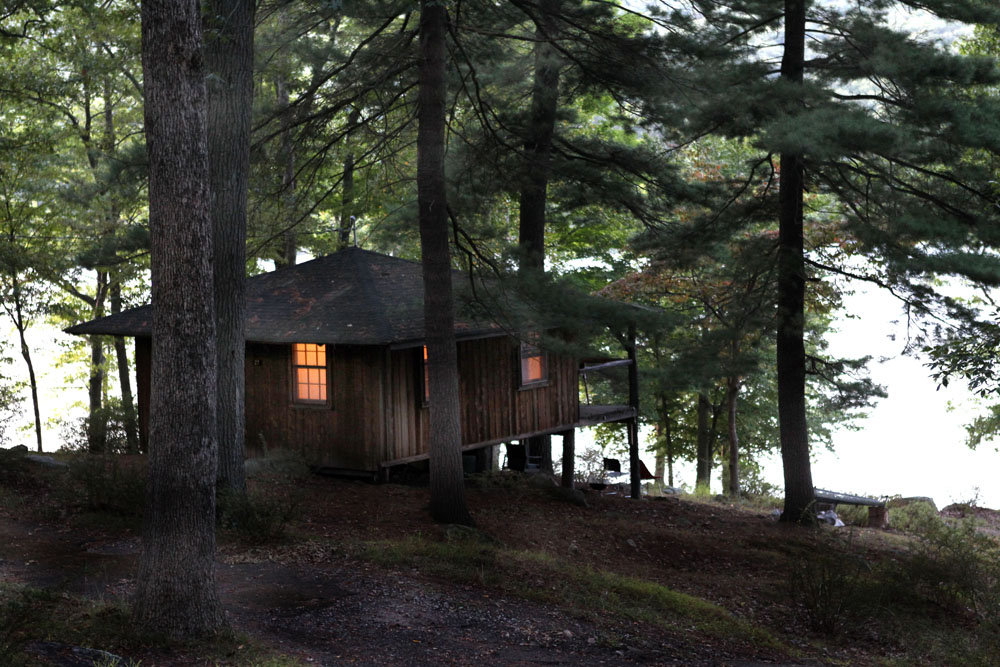 She'd given me 127, a two-room cabin just up the hill from the lake. It sat under the pines and the cedars, logs for stilts holding up the front porch.  All the cabins face the water, with the larger ones uphill slightly.  They all have porches; they're all made of rough tree logs and bark, with pine floorboards and a central "trunk" running up the middle.  This construction is typical of most of the timber cabins throughout the park: no insulation or running water, and a rickety appearance that makes you think twice about bounding up the porch steps.
I'd half forgotten what a camp is.  As a family of seven kids, we'd spent summers at my grandmother's Adirondack camp, and the basic architecture of that sweet summer place prevails here: the hollow-sounding floorboards, the banging screen door, the dark interior wood that absorbs all the light a single lamp or a bare ceiling light bulb can throw.  There had always been a slightly spongy feeling to the unused parts of our Adirondack front porch, a smell of things rotting and sagging.   "This is camping", the Baker Camp manager had warned me on the phone, as if accustomed to complaints from overnighters not used to roughing it.  And she's half right.  But unlike sleeping in a tent, you have electricity, a porch, a door that latches, windows that close, lights that work, and best of all, that roof over your head in case it rains.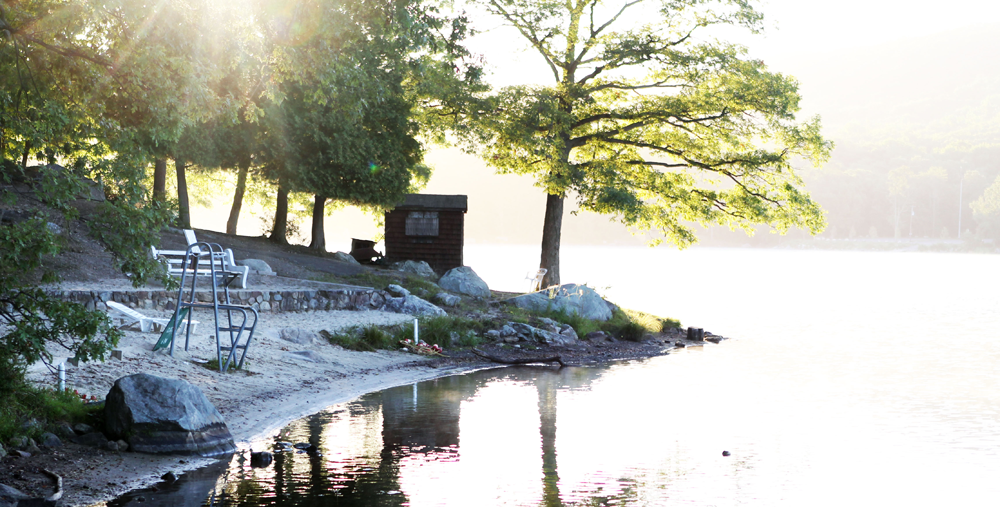 A little beach (closed after Labor Day) with a single lifeguard chair is set beneath the pines, with the cabins scattered along the slope of the hillside behind it.  Standard cabins were built 18′ x 18′, and they each have a porch that overlooks the lake.  It's all at a very small scale, even the great dining hall that serves meals during the summer season.  Until next year, that's closed, too.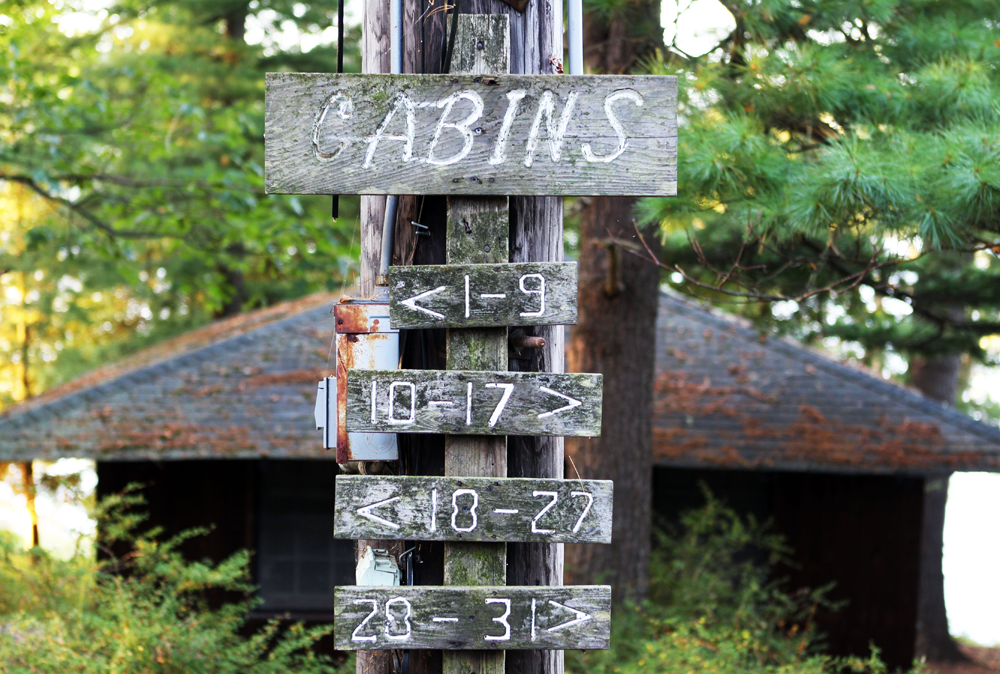 To be sure, there are things that should be repaired.  The shredded roofs, the lilting stilted porches of some of the cabins, the tall weeds sprouting through the floors of abandoned sailboats remind you that nature is always pressing in and reclaiming what's hers faster than the caretakers can fix it.  The mature trees — pines, cedars, oak along the shore and a dogwood here and there — on the grounds are beautiful, but the Japanese barberry at their feet should be taken out.  It's everywhere.
It's not as quiet as you might imagine, this late summer evening, nobody around.  A woodpecker is pounding the pine tree above me.  Fish inch toward the sandy shore and splash around a little bit.  A catbird continues in the trees. So do crows, crickets, goldfinches, tanagers late to fly south, and the grating katydids that come out after dark to drown out the crickets.
At night, I built a fire right on the beach, scrounging in the pine needles for kindling and boughs.  I brought down my laptop, a bottle of wine, a radio to listen to the Mets make their dubious late-season run.  Stranger things have happened to my Mets, and watching the fishermen cast out, I pulled up memories of other September slim chances: fishing on Long Island Sound with my brother and son, a pizza between us and the Mets game on the radio.  We can dream, and in September, I'm afraid we do.
Fisherman in metal boats appeared on the water, one or two to a boat, the echo of water under their hulls reaching me on the beach.  Then, a canoe, carrying two paddlers from the nearby ACA camp, came close to shore to say hello.  It was a nice time of night to be out on the lake, they told me.  They reported that I wasn't alone: a herd of deer was grazing on the shore around the corner.   I watched them cross the lake, heading towards their own evening.
There is that moment just before darkness comes down completely, when it's suddenly as quiet as it's going to get.  No cars, no voices,  no low voices on the water.  The sound of the fire, the crickets, and a far-away airplane, before the sweetness of the cricket sound is replaced with the sawing, ratchety-sounding katydids.  I was half-tempted to throw my sleeping bag on the sand near the fire ring, and just spend the night outside.  I knew it was probably against the rules, but I was alone, after all.  I'm not sure who would have minded.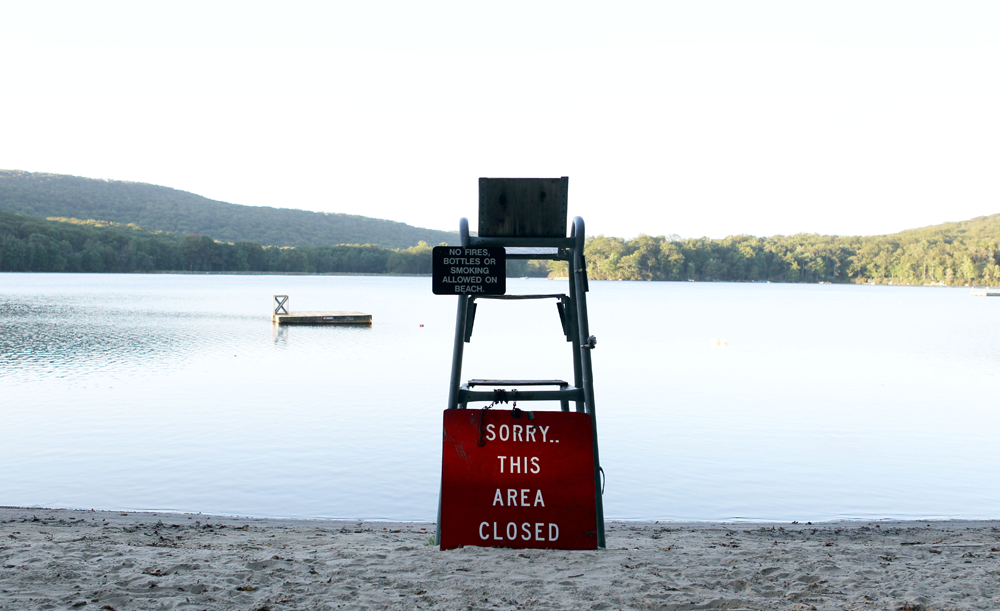 The Details:
The dining hall is closed.  You'll have to bring your own bedding, your own food, and if you need to cook for a group, you should bring a grill, or cook on one of the fire rings down near the beach.  I kept it primitive, but stylish: a block of cheese, a bottle of wine, a chicken salad, a french press with coffee, some chocolate afterwards.  For breakfast, I boiled water on a Jetboil and made a big bowl of oatmeal, and opened a package of Scottish salmon.
And the bathroom situation can be tricky if you need to go in the night.  There are a couple communal bathrooms for the entire camp, with flush toilets and showers, stall-style.
You can rent boats for $15.00 an hour, or for the whole day ($70.00).  However, you must show up before 5:15 pm to rent.
Baker Camp is not for everyone.  If you have camped happily in a lean-to, this is a step up.  I found the bed — a cot — comfortable enough, but I wished I'd brought a pillow.  Other than that, I love these little rustic cabins.
I paid $60.00 — by check, as they don't take credit cards — for a two-room cabin (standard) with three beds.  There are large cabins available for bigger groups, and they have interior fireplaces. Check in hours after Labor Day are when you arrive, with check-out being 24 hours later if you're staying for one day.
What I brought:
Sleeping bag;
Jetboil;
Starbucks "Via" instant coffee packs;
A bottle of wine;
A cup and a mug;
Instant oatmeal;
Two LED lanterns to hang on the porch at night;
My computer and cell phone (there was Verizon reception in my cabin);
Camera
What I wished I'd brought:
A pillow;
Another blanket;
Mets hat.
A large-ish water dispenser.