Take the Train to the School Bus Through Harriman State Park this Weekend
This is the final weekend of the season for the Tuxedo-Harriman hikers' shuttle, so if you haven't used it to create a one-way hike for yourself, make a plan now!
Get Tickets in Advance, or Just Be on the Early Weekend Train into Tuxedo.
Besides being a great way to spend a Saturday or Sunday, you'll be helping us out.  We'd like to continue the shuttle again in the spring, and by simply turning up, you'll help us convince our sponsors that helping hikers get to the trails is pretty good service to have.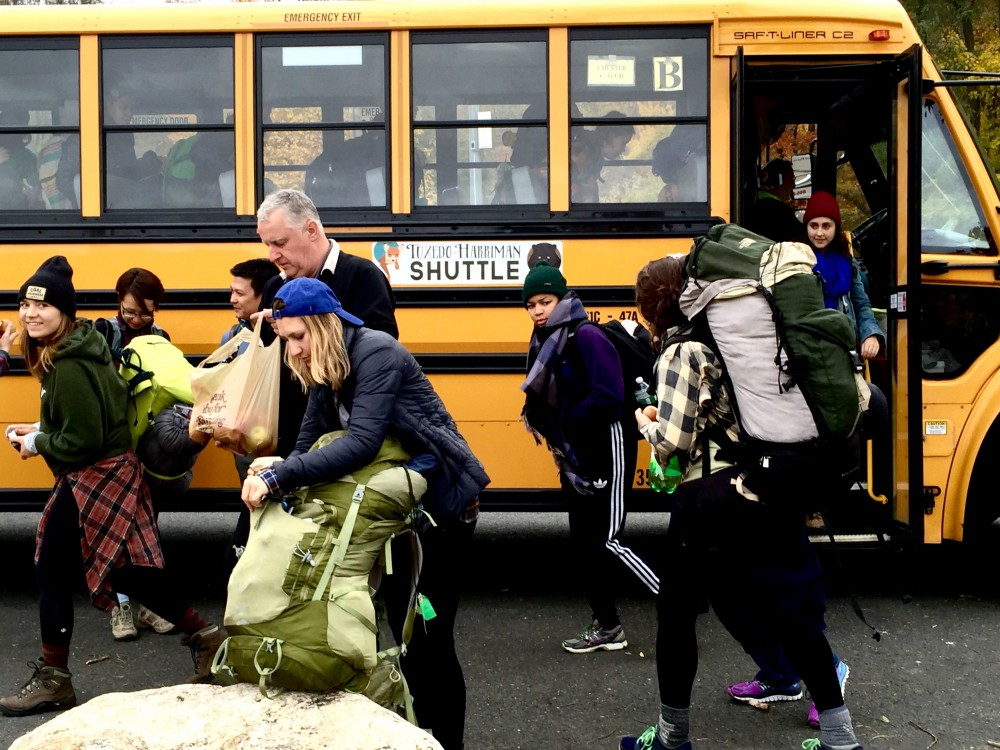 The shuttle is in its first year and has created a bustling crowd at the train station on the weekends, but don't worry; because it brings you to more remote parts of the park, you won't be in a crowd for long.
Leaves are still hanging on brilliantly, even at this late date.  The blueberry patches are an astounding, blazing red;
Trail maps are for sale in the Tuxedo train station;
Volunteers and a large display of the park, shuttle route and trails are also in the train station to help you plan your route.  Volunteers will be on the shuttle to alert the driver when you're ready to get off.
The Farmers Market is right at the train station as well (Saturday only).  Apples, pies, empanadas, bread, cheese…
A helpful hiker reminded me that Tuxedo Wines and Spirits is a stone's throw from the train station, and you can pick up individually-packaged, single-serve wine or other spirits to warm you on the trail;
Use the bus for a one-day hike, or stay the night on Saturday and we'll pick you up in the morning.
$5.00/ticket.
The shuttle is unique to Tuxedo, but then Tuxedo is a unique place.  Embraced on both sides by two massive state parks, Tuxedo is a slice of civilization in the wilderness, and incredibly easy to get to from New York City.  The shuttle marks the first time that a private enterprise has stepped up to provide a regular shuttle service in a New York state park.
Need an idea for a day or overnight hike using the shuttle?  Look here:
Day Hikes Using the Tuxedo-Harriman Shuttle
Overnight Hikes Using the Tuxedo-Harriman Shuttle