Mohonk it's not.  But it's a great place to climb — especially in peak foliage color.
This is it — the very peak of the fall foliage in downstate New York.  If you're a climber or a boulderer, and you can't make it up to Mohonk this weekend, why not give the newly-opened Powerlinez climbing area in Harriman State Park a try?
I was out there today and can vouch for how really beautiful it is.  While you're close to the thruway, the sound you hear is closer to a low drone than a honking snarl that is virtually unnoticeable in a breeze.
And the landscape — a combination of open vistas, scrubby oak and ash, moss-covered boulders and jutting escarpments — combines for an other-worldly effect that feels isolated and pristine.
No, it's not Mohonk, but it's really, really nice.  And, yes, you're close to a landfill, but it's a grassy hill far below, not a garbage heap swarming with crying seagulls.
You'll need to "know before you go".  Powerlinez has just opened up to climbers this year, and use of the hill comes with some basic rules, which you can read on the sign below, or on our other blog post here.  There are some changes to where you are allowed to park, so don't refer to the Powerlinez website until they've made the corrections.
Directions (parking at approximately GPS 41 8 29.6, -74 9 42.5:
1. Traveling north on I-87, take exit 15A for Suffern.
2. Turn right at the bottom of the ramp onto Route 59/Orange Turnpike.  You'll drive past an old iron train trestle bridge on the left, and then you'll cross a green iron bridge.
3. Once over the bridge, keep an eye out for Route 95/Torne Valley Road , on the left.  Take that left turn, and drive along 95/Torne Valley Road for about a mile.
4.  JUST BEFORE you reach Torne Brook Road on the left, you will need to park along the left side of Torne Valley Road.  There is a pull-out on the left, across from the big grassy hill on the right.  Park just past the transformer box marked with a "W-4". GPS 41 8 29.6, -74 9 42.5
5.  You'll walk briefly along Torne Valley Road until you reach Torne Brook Road; turn left.  Almost immediately, and as soon as you cross the creek, you'll see a stony pull-out (please don't park here, as this could lead to revocation of all permission to climb)  and small boulder on the right.  Take the stony woods road leaving from the pullout.  That's the road up to the climbing area.  Take the first left off this woods road, onto another, and soon the trees open up and you reach the glowering lower face of the big cliff.  Continue along this woods road until you see a trail leading off into the oak and ash woods at the right.  This leads to other climbing areas in the woods.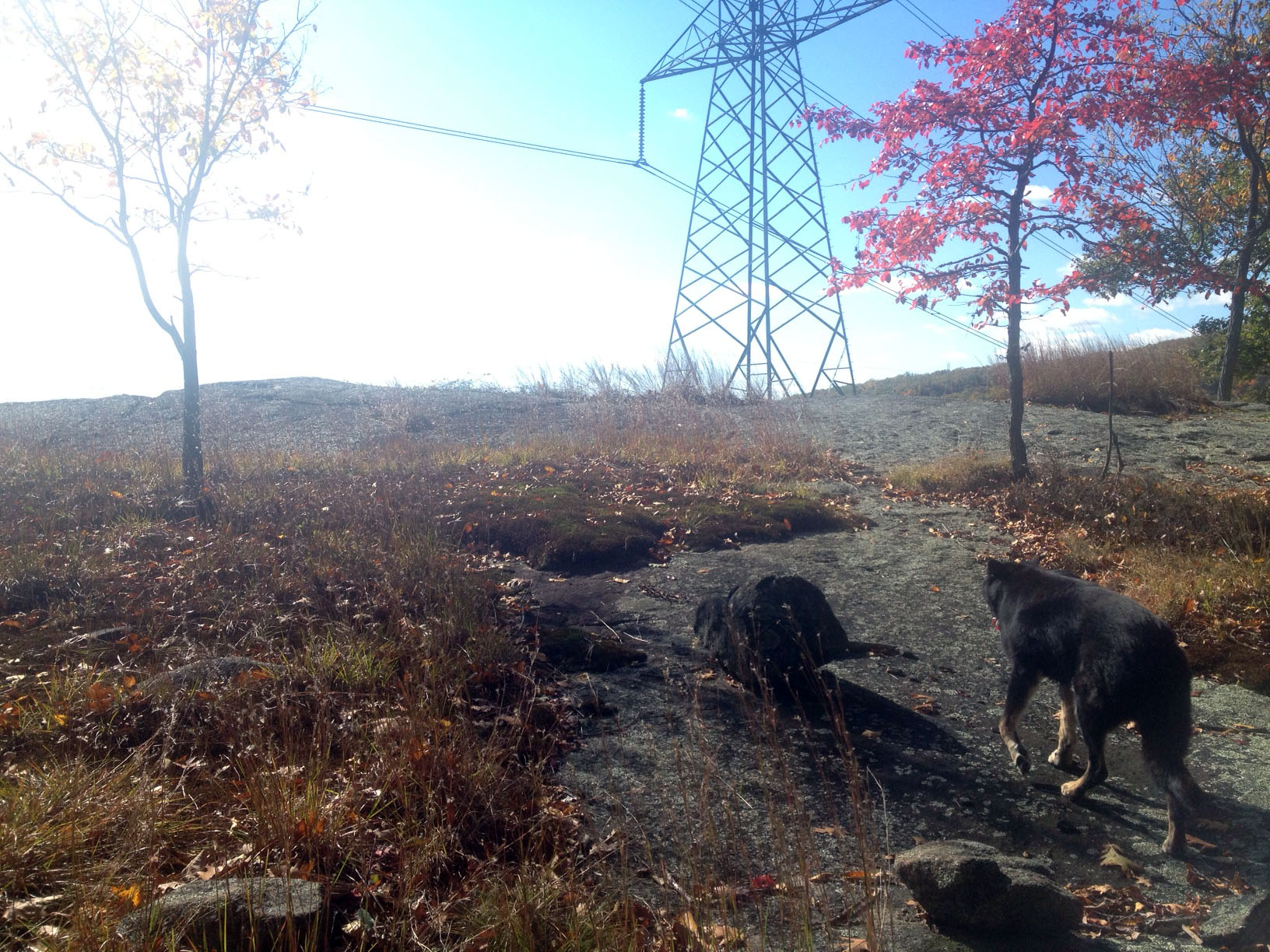 You can find lots of good information on climbing in the Torne Valley/Powerlinez area at the group facebook page, https://www.facebook.com/groups/110610805650592/.
Remember, you'll need a permit, which is essentially a waiver stating you know the risks associated with climbing. Read our earlier post on the rules, the type of climbing that's allowed, and getting a permit.
Note: The website associated with climbing the Powerlinez, www.tornevalleyclimbing.com/, is viewed by some computers as an "attack site".  Until they get that fixed, you can access the site on your smartphone.
PS:  If you're a climber, and you'd like to help this site by writing an article about climbing/bouldering in the park, drop us a note at dan@myharriman.com.  Thanks!