Take the Train From New York, Then Ride the Big Yellow School Bus to Your Next Harriman Adventure
You've seen two hundred cars parked along Seven Lakes Drive at the Reeves Meadow Visitor Center.  Or, you've seen hikers and backpackers get off the trains at Sloatsburg and Tuxedo and wonder how to get to the trailheads in Harriman State Park.
In an effort to encourage train travel to the park, and to make it possible for those who come by train to get to some of the more remote trailheads and camps, MyHarriman.com, the Tuxedo Chamber of Commerce and A Better Tuxedo are bringing an old-fashioned mode of transportation to shuttle bliss.
Starting Friday, July 3, at 10:50 AM, then running weekends only.
The shuttle is your classic, 42-seat school bus.  The cost is $5.00 a seat.  And it will meet your train from New York City at the Tuxedo Train Station, give you a half hour or so to pick up goods at the Farmer's Market (Saturday AM only), Bentley's Deli, or the grocery store, then set off on its loop through Harriman State Park.
You can hop off the bus along the shuttle's route through the park.  From there, you'll have to hoof it along any of Harriman's 230-plus miles of hiking trails to get back to the train station or bus station (or your car, if you've driven to Tuxedo or Sloatsburg).
See the Turn-by-Turn Route Description at the Bottom of this Post!
But the shuttle enables you to plan out adventurous one-way hikes back to the station.  It lets you spend a weekend in the park, sleeping at any of Harriman's many lean-tos.  If you catch the bus the following morning, why not pick up lunch at Tuxedo's Junction Inn, or Sloatsburg's Characters Restaurant?
You can purchase tickets in advance here, or just show up at the shuttle stop in Tuxedo (it's right outside the train station, and you can't miss the big yellow school bus) and take your chances that the bus isn't full.
We are looking for sponsors!
MyHarriman.com will work with you to put together the perfect sponsorship combination of creativity and visibility.  Possibilities for advertising on the bus, or before the ride, are endless and highly visual, so let's brainstorm and come up with something that's an original.  Contact suzy@suzyallman.com to explore.
Map of the route of the new Harriman shutt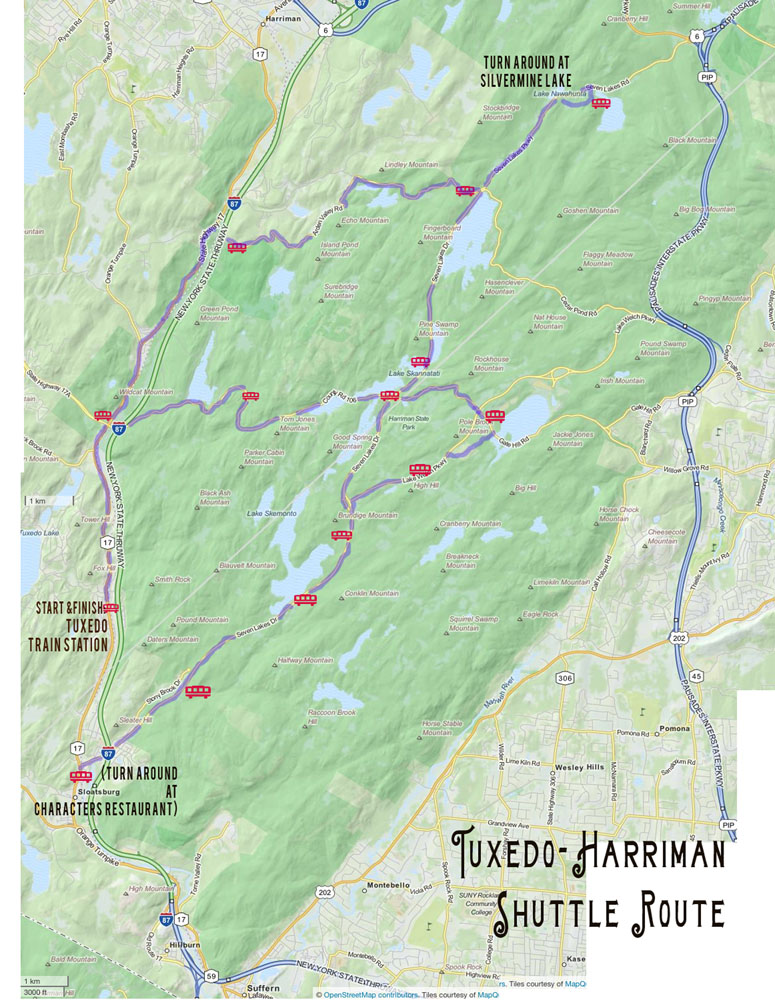 Here's the route the shuttle will take, with turn-by-turn directions and approximate times:
The shuttle picks up passengers in the Tuxedo Train Station at 10:45
From Tuxedo Station:
10:52: Park and Ride lot at the corner of Route 106 and Route 17.  Turn right into Harriman Park on Route 106.  Access to Wildcat Trail (Sterling Forest), Ramapo Fishing Access Area, Parker Cabin Hollow Trail.
10:58: Green Pond Access pull-out on Route 106.  Continue along Route 106.
Access to White Bar and Nurian Trails, Island Pond Road, Green Pond, Tom Jones Shelter
11:00: Tom Jones/Ramapo-Dunderberg Trail access pull-out on Route 106.  Continue along Route 106, and proceed to Kanawauke Circle.  At the circle, continue straight to St. John's Road.  Access to Ramapo-Dunderberg Trail, Tom Jones and Bald Rocks shelters.
11:07: Turn left onto Lake Welch Drive; continue to Seven Lakes Drive.  Access to AMC Outdoors at Breakneck Pond, Lake Welch and Long Path.
11: 10: Seven Lakes Drive to Sloatsburg.  Access to Sebago Boat Launch, Reeves Meadow Visitor Center, Sebago Cabin Camp, Baker Camp.
11: 15: Sloatsburg (Characters Restaurant parking area).  Pick up riders, and backtrack along Seven Lakes Drive north.
11:25 Lake Skannatati Parking area, and access to the Long Path, Red Cross and Arden-Surebridge trails.  Pick up Long Path thru-hikers if necessary.
11:30: Cedar Pond Group Camping parking area.  Continue along Seven Lakes Drive, to Tiorati Circle.  Access to Thendara Mountain Club Camp, Cedar Pond Group Camping, Hurst Trail to Fingerboard shelter, Ramapo-Dunderberg and Appalachian Trail.
11:35: Silvermine Lake Parking Lot. Access to Menomine Trail, Stockbridge and Brien Memorial Shelters, Silvermine Lake, and beyond.  Follow Appalachian Trail over West Mountain and Bear Mountain.
From Silvermine, the bus reverses to go south along Seven Lakes Drive.
11: 40: Right at Tiorati Circle. Intersection with Appalachian Trail.  Pick up thru-hikers.
11:43: Continue on Arden Valley Road to Elk Pen.  Access to Island Pond, Appalachian Trail.
11: 45: Elk Pen.  Continue on Arden Valley Road to Route 17; then back to Tuxedo Train Station.  Access to Appalachian Trail, thru-hiker pick-up at Elk Pen and along Route 17 in Southfields.
12: 00: Finish at Tuxedo Train Station.