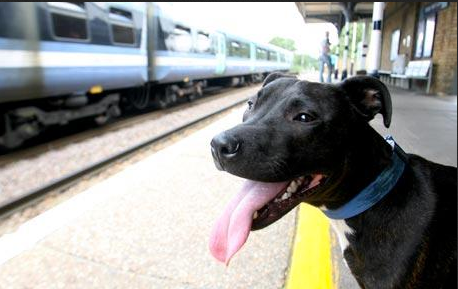 Yes, you can bring your canine friend on the Metro-North train to Harriman State Park!
Dogs Are Allowed on the Metro-North Train (and that's good news for hikers).
Can I take my dog on the Metro-North train?  The short answer is, "yes".  Dogs are welcome on Metro-North trains in and out of the city, and all the way up to Harriman State Park and Bear Mountain State Park.  They're pretty much welcome any time — as long as the trains aren't packed with peak-period travelers.
"Metro North has long been the lone dog-savvy outpost in the generally dog-hostile American train world. We took our 75-pound shepherd mix Jolly on the commuter train to Westchester and this past weekend the beagles happily rode their train." — www.animaltourism.com
Well-behaved dogs are welcome on the animal-friendly Metro North trains, and have been for years.  They do not need to be service dogs, or working dogs.  They don't have to be "teacup" size dogs, either.
You'll need to keep your Harriman hiking buddy on the leash, and don't let him jump up on the seats (or passengers).  Bring a supply of bags with you, should the unspeakable happen right there in the aisle.
Just let them lie down on the floor, out of the aisles, and you're good to go.
Do you need to muzzle or crate your pet?  No — if he's well-behaved, he's allowed on the train, and if he's well-behaved, he doesn't need a muzzle.
You don't have to make prior arrangements with the conductor.  You don't have to buy him a ticket.  Just get him on the train (you can bring him into Grand Central — but you might have a problem hailing a cab to the station!), take him up to Manitou Station (walk across the Bear Mountain Bridge from there, and enjoy the Appalachian Trail or a stroll around Hessian Lake) or to Tuxedo Station or Sloatsburg, where you can jump on the Ramapo-Dunderberg Trail.

A word of caution, though: some dogs might not feel comfortable on a noisy, rocking train.  You may want to take him on a one-stop trial run before you commit to the long haul up the Hudson.  (See this picture? )
Don't forget to enjoy the day.