"It will be a hardy hiker who does all of this trail in one day, for it rivals in ruggedness the Ramapo-Dunderberg Trail, twenty-five miles long, from Tuxedo to the Hudson, which few walk at a stretch; but it offers fine sections from five to fifteen miles in length that can be reached at various points by train or bus." — Raymond Torrey, May 1, 1927 The New York Times
This is a classic north-south trail that runs the length of the park (26 miles), from (obviously) Suffern, New York, to Bear Mountain State Park.  You can park at either end of the trail; for New York City hikers, you can easily take the bus to Harriman Park.  It will discharge you 100 yards from the trailhead at the southern end, and you can catch the train back to the city the following day from the Bear Mountain end (see details below).
Yellow-blazed from end to end, the trail may be completed in a weekend or, if you're up to the challenge, in a day (and in 2014, the trail will host an ultramarathon, as runners race to complete both the Ramapo-Dunderberg trail and the Suffern-Bear Mountain trail in a single day).
The Suffern-Bear Mountain trail is an up-and-down, undulating roller coaster of a path that is, in places, steep and challenging.  The area around the Pyngyp, near the halfway point of the trail, is especially daunting, and because of some of the cliff edges that characterize the trail, it isn't one for the dogs!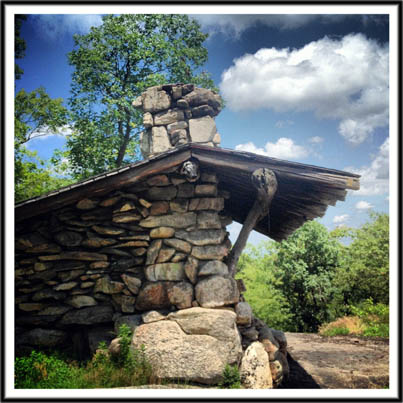 Two lean-tos — Stone Memorial and Big Hill — stand sentry along the way, comforting rest areas or overnight accommodation if you're tackling the whole trail and need a place to sleep.
If you live in New York City and don't have a car, a great circular hike may be made catching the Shortline bus from the Port Authority Bus Terminal to just near the trailhead in Suffern (the bus stop is at the corner of Rte. 202 and Orange Ave).  You'll follow the trail the whole way, overnighting at either Big Hill shelter or Stone Memorial shelter, finishing the trail at Bear Mountain Inn (with a celebratory beer) the following day, before crossing Bear Mountain Bridge and walking the final two miles to Manitou Station and catching the Metro-North back to Grand Central Terminal.
An engaging, historical description of this trail, from the New York Times at the time the trail opened, can be read on our site.  You can use the map from that old article to navigate the trail, or download our free map (as a rough guideline only).  Best of all, spend a few bucks getting your hands on the New York New Jersey Trail Conference maps, either on paper or on your smartphone (great for seeing exactly where you are on the trail).  If you have Verizon as a carrier, signals are strong within the park.