Come for the peace, or come for the adventure.
Harriman State Park is the perfect place to spend a day or a weekend.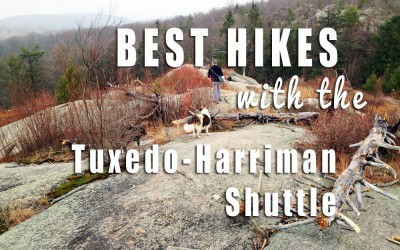 The Train: 9:21 train from Penn Station, arriving Tuxedo at 10:17. The Trails: Ramapo-Dunderberg; White Cross; Triangle Victory Tuxedo-Mount Ivy Distances: 3.2 miles (shortest combination of trails) and up. Difficulty: Moderate. Features: 100-year old lean-to shelters, lakes, streams, forest, rocky "whaleback" mountaintops. Shuttle cost: $5.00, weekends (Saturday and Sunday) only. Take the Train to the Shuttle to Some of the Park's Prettiest Trails. One of my very favorite areas of the park is right on the new Tuxedo-Harriman shuttle route (weekends only).  This means it's easy to get to from the Tuxedo Train Station to Harriman's best hiking trails or, if you're coming by car, you can create a one-way hike back to it by parking in Tuxedo and boarding the shuttle.  Simple! The area I'm writing about contains the trails that go from Route 106, over Tom Jones, Parker Cabin, Black Ash and Blauvelt Mountains.  In that part of the park, you can visit the pretty shores of Lake Skenonto and Lake Sebago, see Claudius Smith Den, have your lunch with your feet up at Tom Jones Shelter. There are plenty of trail combinations to get your there, and while I could plan each and every combination, my suggestion is this: pick up the map set when you get to the Tuxedo Train Station.  Take a look at the trails, pick your perfect combination of scenery and miles (if you can hike 3.2 miles, you can do a trail with the shuttle!) With the maps, the park is the kingdom and the map is your key to it.  With more than 230 miles (MILES!) of hiking trails, I... read more
"We set up camp, gathered firewood, and had a great night under the stars. The area was very clean and the view was amazing…The trails were beautiful and once we figured out how to navigate them we had no trouble." Matthew R.